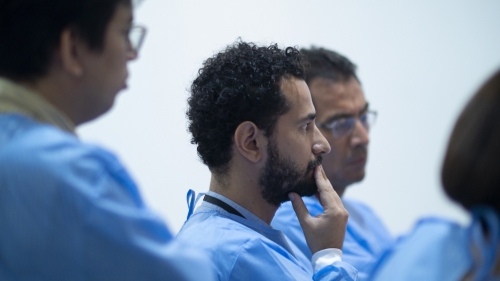 Registration not open yet
04 - 05 June 2021 | Brazil | Sao Paulo
Global Neuro Advanced Course—Neurotrauma
Description
This course covers the current best strategies and considerations for managing neurotrauma patients and is based on competencies defined in Global Neuro's curriculum. The content is delivered using multiple methods. Comprehensive lectures concentrate on the understanding of core material. Interactive case presentations deepen this knowledge and enrich the discussion in trauma management. Demo sessions teach the application of Global Neuro principles to manage common injuries. Case-based discussions link the lecture material and practical skills with the problems encountered in clinical practice.

Goal
The Global Neuro Advanced Course—Neurotrauma covers the management of complex cranial neurotrauma using advanced monitoring, devices, and techniques. There will also be a focus on the management of hallenging clinical scenarios and complications.

Learning Objectives
By completing this course, participants will be better able to:
Apply current classification systems and guidelines in neurotrauma
Manage complex neurotrauma, including penetrating injuries, vascular injuries, and skull base fractures with an interdisciplinary approach
Conduct and interpret advanced imaging and neuromonitoring
Plan and perform the following operative techniques: multifunctional probes, complex cranial
reconstruction, including complex bleeding control.
Manage complex complications such as metabolic disturbances, CSF leaks, and coagulopathy.

Details
Venue
University of Sao Paulo
Discounts
Residents (20% discount)
Included items
Coffee breaks, Course materials, Lunch
Content
Artificial bone practicals, Debates, Interactive case discussion, Lectures, Small group discussion
Target audiences
Neuro surgeons, Spine surgeons, ENT surgeons, Cranial maxillofacial surgeons, Healthcare providers interested in the management of neurotrauma and reconstruction, Neurocritical care physicians
Languages
Portuguese, Spanish
Registration
Registration not open yet