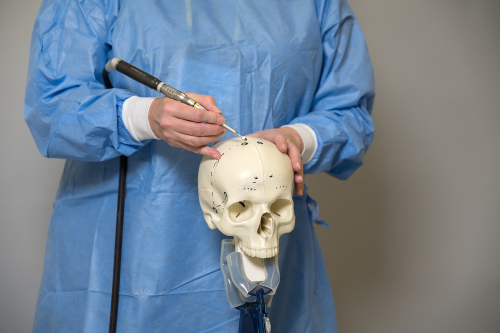 Open for registration
Global Neuro Course—Neurotrauma
02 - 03 July 2022
Italy | Brescia
Marco Fontanella

University of Brescia ASST Spedali Civili University Hospital

Andres M. Rubiano

University El Bosque

Francesco Biroli
Registration fee: EUR 300.00
Venue
University of Brescia
Content
Artificial bone practicals, Interactive case discussion, Lectures, Small group discussion
Target audience
The Global Neuro Advanced Course has been developed for residents, surgeons, and physicians who are experienced in the management of cranial neurotrauma and who have a strong interest in complex patient care, clinical research, and an interdisciplinary approach (neurosurgeons, neurointensivists, neuroradiologists, emergency doctors, neuroresearches.)
This course covers the current best strategies and considerations for managing neurotrauma patients, specifically Polytrauma patients who also suffer from Neurotrauma with a focus on the issues in developing countries, new trends in neuromonitoring and the value of research in this field, based on competencies defined in Global Neuro's curriculum. The content is delivered using multiple methods. Comprehensive lectures concentrate on the understanding of core material. Interactive case presentations further deepen this knowledge and enrich the discussion in trauma management. Practical sessions teach the application of Global Neuro principles to the management of common injuries. Case-based discussions link the lecture material and practical skills with the clinical problems encountered in clinical practice.
The Global Neuro Advanced Course—Neurotrauma covers the management of complex cranial neurotrauma using advanced monitoring, devices, and techniques. There will also be a focus on current research and the management of challenging clinical scenarios and complications.
Upon completion of this course, participants should be able to:
Apply current classification systems and guidelines in neurotrauma
Manage complex neurotrauma, including penetrating injuries and skull base fractures with an interdisciplinary approach
Conduct and interpret advanced imaging and neuromonitoring
Plan and perform the following operative techniques: complex cranial reconstruction, and dural repair
Manage complex complications such as metabolic disturbances, CSF leaks, coagulopathy, infections.
Discuss and conduct state-of-the-art clinical research
Included items
Coffee breaks, Course bag, Course dinner, Course materials, Lunch
Please note: Observers will not take part in the practical exercises
Cancellation Policy: 50% until 30 days before the event. No refund thereafter
Are you new to Global Neuro?