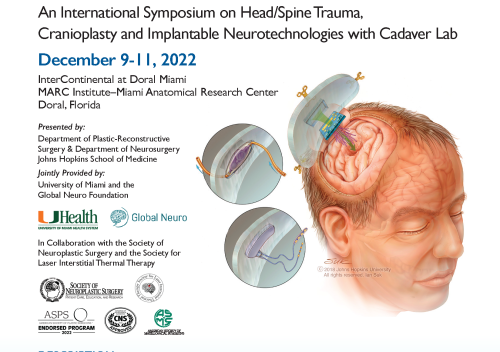 Open for registration
Seventh Annual Selected Topics in Neuroplastic & Reconstructive Surgery
An International Symposium on Head/Spine Trauma, Cranioplasty and Implantable Neurotechnologies with Cadaver Lab
09 - 11 December 2022
United States | Miami
Chad Gordon

Johns Hopkins University

Michael E. Ivan

University of Miami

Ricardo J Komotar

University of Miami

Paul Manson

Johns Hopkins University

Allan D Levi

University of Miami Health System

Judy Huang

Johns Hopkins University School of Medicine
Course Director: Chad Gordon, DO, FNPS, Johns Hopkins University School of Medicine Course Co-chairs: Nicholas Theodore, MD, MS, Johns Hopkins School of Medicine Allan Levi, MD , University of Miami School of Medicine Ricardo Komatar, MD, University of Miami School of Medicine Michael Ivan, MD, University of Miami School of Medicine Judy Huang, MD, Johns Hopkins School of Medicine Paul Manson, MD, Johns Hopkins School of Medicine Michael Yaremchuk, MD, Harvard Medical School/MGH
Venue
InterContinental at Doral Miami MARC Institute–Miami Anatomical Research Center
Content
Lectures, Interactive case discussion
Target audience
This activity is intended for residents, fellows and physicians in Neurosurgery, Neuroplastic and Reconstructive Surgery, Craniofacial Surgery, Plastic and Reconstructive Surgery, Otolaryngology – Head and Neck Surgery, Oral Maxillofacial Surgery and Biomedical Engineering.
Description
Modern-day cranioplasty, along with the burgeoning field of Neuroplastic and Reconstructive Surgery, is undergoing a significant paradigm shift related to various techniques, surgical advancements, implantable neurotechnology, and improved biomaterials. These changes have stimulated us to assemble premier thought leaders in various specialties including neurosurgery, neuroplastic surgery, craniofacial surgery, and plastic surgery to meet for the Seventh Annual conference. The faculty will gather to present evidence-based data on surgical approaches and state-of-the-art materials, engage and network within a broad array of colleagues and experts, and share high-yield experiences to help attendees improve their patient outcomes. Interactive panel discussions following each lecture will offer the opportunity to debate the evidence, exchange ideas, and gain invaluable insight to assist with the most challenging cases.
Topics include
• Neuroplastic Surgery overview
• Multidisciplinary Collaboration
• Military Head Trauma
• Pericranial-onlay Cranioplasty technique
• Implantable neurotechnologies
• Smart cranial Implants
Accreditation
ACCREDITATION STATEMENT
The Johns Hopkins University School of Medicine is accredited by the Accreditation Council for Continuing Medical Education (ACCME) to provide continuing medical education for physicians.
CREDIT DESIGNATION STATEMENT
The Johns Hopkins University School of Medicine designates this live activity for a maximum of 20.25 AMA PRA Category 1 Credits™. Physicians should claim only the credit commensurate with the extent of their participation in the activity.
Registration fees
Before

October 1, 2022

After

October 2, 2022

Physician – Friday 12/9 only

$420
$495

Physician – Saturday 12/10 only

$645
$750

Physician – Friday, Saturday and Sunday

$1075
$1200

Residents*/Fellows*/Allied Health Friday 12/9 only

$85
$95

Residents*/Fellows*/Allied Health Saturday 12/10 only

$90
$100

esidents*/Fellows*/Allied Health All days – Friday, Saturday and Sunday

$170
$190
Register here: hopkinscme.cloud-cme.com/course/courseoverview?P=0&EID=39419
Methods of Payment: Full payment is required prior to the start of the activity. The registration fee includes instructional materials, breakfasts, refreshment breaks and lunches.
By completing this course, participants will be better able to:
Create a cranioplasty reconstruction management plan with or without implants, from peri- to postprocedural care.
Discuss recent advances in cranioplasty and neuro-cranial reconstruction, and how you may incorporate them into your practice.
Translate cranioplasty and implantable neurotechnology research findings to improved outcomes based on recent evidence-based literature.
Employ cooperative learning to analyze practice barriers and apply appropriate solutions.
Included items
Coffee breaks, Course bag, Course materials, Lunch
Are you new to Global Neuro?