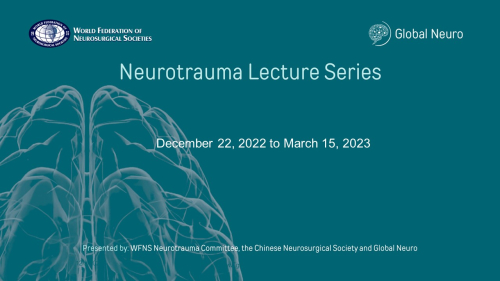 Registration closed
The Chinese Neurosurgical Society, WFNS Neurotrauma Committee and Global Neuro Lecture Series—Neurotrauma
23 December 2022 - 16 March 2023
China | Shanghai
Guoyi Gao

Shanghai Hospital

Andrew Reisner

Emory University
Chair(s)
Guoyi Gao

Shanghai Hospital

Name and title(s): Guoyi Gao, M.D., PhD.

Current position(s) and affiliations:

Professor and executive chair of the Department of Neurosurgery, Shanghai General Hospital and Jiaotong University School of Medicine, Shanghai, China.

Vice Chairman of Young Member committee of Chinese Trauma Society

Vice director of Neurotrauma Board of Chinese Trauma society

Board member of Education Committee, Chinese Neurosurgeon Society

Vice Director of Head trauma committee of Shanghai Neurosurgical Association

Specific expertise: Neurotrauma, Traumatic Brain Injury (TBI)

Andrew Reisner

Emory University

Andrew Reisner

Emory University
Contributor(s)
Andres M. Rubiano

University El Bosque

Name and title(s): Andres M. Rubiano, MD, PhD

Current position(s) and affiliations: Chief of Neurological Surgery Service at Valle Salud IPS.

Professor of Neurosciences and Neurosurgery -Director of Neurotrauma Research, Universidad El Bosque, Colombia

President of the Neurotraumatology and Intensive Care Chapter of the FLANC, Co-Chair of the Neurotraumatology Chapter of the WFNS, and Coordinator of the International Committee of the Section of Neurotrauma and Critical Care of the AANS.

Specific expertise: His expertise is on Clinical practice and research in trauma, emergency care, neurotrauma and critical care.

Corrado Iaccarino

University of Modena and Reggio Emilia

Name and title(s): Prof. Corrado Iaccarino M.D. PhD

Current position(s) and affiliations:

Associate Professor in Neurosurgery, University of Modena and Reggio Emilia – Department of Biomedical, Metabolic and Neural Sciences – University Hospital of Modena – Neurosurgery Division – Modena, Italy.

Member of the Italian Neurosurgical Society.

Member of the Neurotraumatology Committee of the World Federation of Neurosurgical Societies.

Member of Trauma section of European Association of Neurosurgical Societies

Former Head (2014-2016/2018-2020) and former Secretary (2012-2014/2016-2018) of the Traumatic Brain Injury Group of the Italian Society of Neurosurgery.

Specific expertise: Traumatic brain injury, Cranial reconstruction, spine trauma, neuronavigation and neuroendoscopy

Anthony Figaji

University of Cape Town

Name and title(s): Anthony Figaji MBChB, MMED, FCS (Neurosurgery), PhD

Current position(s) and affiliations:

Professor and Head Paediatric Neurosurgery at the University of Cape Town in South Africa.

National Research Foundation SARChI Chair of Clinical Neurosciences

Secretary of the International Society for Pediatric Neurosurgery

Scientific chair of the Society of Neurosurgeons of SA

Pediatric Director of the Brain Trauma Foundation.

He is past president of the International Neurotrauma Society and one of the founder members of Global Neuro.

Specific expertise: Paediatric Neurosurgery

Laura Lippa

Ospedali Riuniti Livorno

Consultant Neurosurgeon at Ospedale Niguarda, Milan, Italy.

Currently serving as co-Chair of the WFNS Neurotrauma Committee and as secretary of the Neurotrauma Committee, Italian neurosurgical society (SINCh). Member of the EANS Neurotrauma Committee and both the EANS and WFNS Young Neurosurgeons.


Research, education, mentorship geek.

Peter Hutchinson

University of Cambridge

Peter Hutchinson BSc (Hons), MBBS, PhD (Cantab), FRCS (Surg Neurol) FMedSci is Professor of Neurosurgery, NIHR Research Professor and Head of the Division of Academic Neurosurgery at the University of Cambridge. He is Director of Clinical Research at the Royal College of Surgeons of England.

He holds an Honorary Consultant Neurosurgeon post at Addenbrooke's Hospital with a sub-specialist interest in the management of neuro-trauma, specifically head and traumatic brain injury. He has a research interest in acute brain injury, utilising monitoring technology to increase the understanding of the pathophysiology of brain injury, and in the investigation and treatment of concussion. He also leads the international RESCUE studies evaluating the role of decompressive craniectomy in traumatic brain injury. He was awarded the Olivecrona Prize (the "Nobel Prize for Neurosurgery") for his work on cerebral metabolism in acute brain injury).

He has co-authored over 500 publications (including NEJM, Lancet and Brain) and been lead applicant in over £20m of grants (including MRC and NIHR). He is joint editor of the Oxford Textbook of Neurological Surgery and "Head Injury – A Multidisciplinary Approach".

He is Director of Clinical Studies at Robinson College, Past President of Clinical Neurosciences Section of the Royal Society of Medicine, Meetings Secretary of the Society of British Neurological Surgeons, Treasurer of the International Neurotrauma Society and Chief Medical Officer for the Formula One British Grand Prix.

Konstantinos Fountas

University of Thessaly

Dr. Kostas N. Fountas was born in Athens, Greece. He completed his undergraduate education in Athens, and graduated from the Medical School of the National and Capodistrian University of Athens, Greece. He subsequently completed his neurosurgical residency, and a fellowship in Epilepsy and Electrophysiological Neurosurgery at the Medical College of Georgia, Augusta, GA, USA. He has completed his thesis on the role of proton MR spectroscopy in the preoperative evaluation of intracranial tumors.

He is the Professor and Chairman of the Department of Neurosurgery at the Medical School of University of Thessaly, in Larisa, Greece, since 2009. He has established and runs a busy Epilepsy and Brain Tumor Program at his home institution. He has also been appointed as a Clinical Instructor at the Augusta University, Augusta, GA, USA since 2004.

His research interests focus on epilepsy imaging and surgery, electrophysiological surgery, and advanced imaging and surgical treatment techniques of brain tumors.

He has contributed 215 peer-reviewed articles in PubMed indexed journals, while he is the author of more than 30 chapters of neurosurgical textbooks, and the editor of two major neurosurgical textbooks. He has been served as an instructor in several international workshops. He has delivered more than 300 presentations in international neurosurgical meetings, receiving several international awards.

He is a member of several international neurosurgical societies, among them the EANS, AANS, CNS, ASSFN, ESSFN, and WSSFN. He serves as the president of the Greek Neurosurgical Society since 2021, as well as active member of the board of the Greek American Neurosurgical Society, and the South-Eastern Neurosurgical Society. He has served as the President of the Web & Publication Committee of the World Federation of Neurosurgical Societies. He is a member of the Editorial Board in 5 PubMed listed neurosurgical journals, while he serves as e reviewer in more than 50 neuroscience journals.

Gregory Hawryluk

University of Manitoba

Name and title(s): Dr. Gregory Hawryluk,MD, PhD, FRCSC

Current position(s) and affiliations: Neurosurgeon at Cleveland Clinic and Medical Director of the Brain Trauma Foundation

Greg completed his neurosurgical residency at the University of Toronto. During this time he also completed a basic science PhD in Neural Repair and Regeneration under the supervision of Dr. Michael Fehlings which examined the mechanism by which neural precursor cells augment recovery from spinal cord injury.

He leads the development of the Brain Trauma Foundation's head injury guidelines, Co-Directed the development of the SIBICC algorithms and is the recipient of numerous prestigious awards for academic achievements such as the Murray Goldstein Award of the National Neurotrauma Society as well as humanitarian awards such as the University Health Network's Sopman Humanitarian Award.

Specific expertise: spine and brain trauma

Amos Adeleye

Department of Surgery, College of Medicine, University of Ibadan,

Dr. Amos Olufemi Adeleye is a Professor of Neurological Surgery at the College of Medicine, University of Ibadan; and a Honorary Consultant Neurosurgeon, UCH, Ibadan, Nigeria. Professor Adeleye received post-residency training in advanced skull base surgical techniques for 2 years at the Department of Neurosugery, Hadassah Medical Center, Ein-Kerem, Jerusalem, Israel. He currently carries out research in the practice of low-cost Neurosurgery; in particular, low-cost operative neurosurgery

Maximilian Mehdorn

mehdorn-consilium

Neurosurgical training in Zürich San Francisco and Essen, 1973 - 1982, assistant professor department of neurosurgery isn't lesson 1984, chairman department neurosurgery, Kiel University, 1991 until 2015, since then in private practice. Extensively Traveling, more than 400 publications

Ava Puccio

University of Pittsburgh School of Medicine

Ava M. Puccio, RN, PhD, is an assistant professor in the department of neurological surgery and also co-director of the Neurotrauma Clinical Trials Center in collaboration with David O. Okonkwo, MD, PhD.

Dr. Puccio received her bachelor of science degree in neuroscience in 1988 and bachelor degree in nursing in 1994, both from the University of Pittsburgh. In 1995, she joined the Department of Neurological Surgery as a nurse coordinator on the National Acute Brain Injury Study: Hypothermia (NABIS:H) study and also the coordinator for the Brain Trauma Research Center. She pursued advanced schooling to graduate with a master's degree in nursing from the University of Pittsburgh in 2000 and as a university scholar (top 2% of class) from the University of Pittsburgh School of Nursing with a doctoral degree, emphasis in neuroscience in 2008. Her dissertation, "Effect of short periods of normobaric hyperoxia on local brain tissue oxygenation and cerebrospinal fluid oxidative stress markers in severe traumatic brain injury" was published in the Journal of Neurotrauma in 2009.

Dr. Puccio was appointed assistant professor in the Department of Neurological Surgery at the University of Pittsburgh in 2010 and received her adjunct faculty position with The School of Nursing, Department of Acute/Tertiary Care in 2010 with collaborations with Yvette Conley, PhD and Richard Henker, RN, PhD. She was promoted to associate professor with tenure in 2022. Dr. Puccio currently manages a team of on-call nurses, laboratory staff, neuropsychological outcome staff and regulatory staff for several observational and interventional trials involving TBI initiatives with a team science approach. Dr. Puccio is the PI of the National TBI Biorepository which houses biospecimens for several multi-center initiatives, ie. TRACK-TBI and BioBOOST. Her research focus is on blood- and genomics-based biomarker development for TBI, as well as novel therapeutic interventions in TBI clinical trials.

Niklas Marklund

University of Lund

Name and title(s): Niklas Marklund, M.D.,PhD.

Current position(s) and affiliations:

Professor and Academic Chair at the Department of Neurosurgery at Lund University, Sweden

Director of LUBIN Lab, Lund Laboratory for Brain Injury research in Neurosurgery

Founding member and vice president of ENO (European Neurotrauma Organization)

Consultant neurosurgeon (överläkare), Lund University Hospital

European editor J Neurotrauma


Chair- Swedish Sports Concussion Society (SSCS)

Member (elected) World Federation of Neurological Surgery (WFNS)
Neurotraumatology Committee and Scandinavian Neurotrauma Committee (SNC)

2017.-2021 Chair EANS Trauma & Critical Care

Specific expertise: Neurotraumatology that includes experimental as well as clinical research and ranges from sports-related concussions to neurocritical care topics, vascular disorders and spinal neurosurgery.

Niklas Marklund is since 2016 professor and academic chair at the Department of Neurosurgery at Lund University, Sweden, as well as professor of neurosurgery at Uppsala University, Sweden. He went to medical school in Umeå, Sweden and had his neurosurgical training in Uppsala. After his PhD on traumatic brain injury in 2001, he spent two years as a post-doctoral fellow in Philadelphia, USA continuing his research on neurotraumatology. His main clinical and scientific areas of interest are neurotraumatology that includes experimental as well as clinical research and ranges from sports-related concussions to neurocritical care topics, vascular disorders and spinal neurosurgery.

Niklas Marklund was 2010-2016 the Swedish representative in the EANS training committee as well as the scientific secretary of the Swedish Neurosurgical Society. He hosted the 2015 Uppsala training course, is a current member of the EANS exam committee and is a Swedish course leader for the annual Scandinavian neurosurgical courses, Beitostolen, Norway. He is the current mentor of 5 PhD students and on the editorial board or associate editor of five journals including Frontiers in Neurology- Neurotrauma, Journal of Neurotrauma and Acta Neurochirurgica. He is elected member of the Scandinavian Neurotrauma Committee, European Brain Injury Consortium, and the Neurotrauma Committee of the WFNS. Niklas Marklund has a genuine sports interest and enjoys the art of piano playing. He is of course an individual member of the EANS and was in October 2017 elected as the section chair of Trauma & Critical Care of the EANS.

DR. Brahma Balakrishnan

Aishwaryium International

Dr. Barunashish Brahma is a neurosurgeon in Atlanta, Georgia and is affiliated with multiple hospitals in the area, including Children's Healthcare of Atlanta and Northside Hospital Atlanta. He received his medical degree from University of Michigan Medical School and has been in practice for more than 20 years.

Nqobile Thango

UCT Neurosurgery

Nqobile Thango is a paediatric neurosurgeon, lecturer and researcher at the UCT Neuroscience Instituite. Her research interests include understanding how the brain responds to injury at a cellular level (TBI/Infections). Along with neurosurgical research education and capacity building.

She is part of the Young African Neurosurgeons Forum, research co-lead WFNS Global Surgery committee and Young Neurosurgeons Forum.

Andreas Unterberg

University Heidelberg

Currently Chairman and Director of the Department of Neuro­surgery at the University of Heidelberg, Germany.

He studied medicine at the Justus-Liebig-University in Gießen and the Ludwig-Maximilians-University in Munich from 1974 to 1981. He achieved his M.D. degree in 1982. During the following years he was a research fellow at the Institute for Surgical Research in Munich (Director: Professor Dr. A. Baethman). In 1985 and 1986 he was a research fellow of the Deutsche Forschungsgemeinschaft at the Division of Neurological Surgery of the Medical College of Virginia, Richmond/Va./USA, working under Professor Antony Marmarou. His habilitation thesis was finished in 1988 at the LMU Munich.

From 1987 to 1990 he was a resident at the Department of Neurosurgery in Munich (Director: Professor Dr. F. Marguth). In 1990 he became Associate Professor at the Department of Neurosurgery of the Free University in Berlin. In 1991 he was promoted to a full Professor of Neurosurgery. Since 1995 he was Vice Director of the Department of Neurosurgery at the Charité, Humboldt-University of Berlin. In 2003 he became Professor and Chairman of the Department of Neurosurgery in Heidelberg.

He received numerous awards, e.g. the E.K.-Frey-Medal of the German Society for Intensive Care Medicine and the Upjohn Award for Neurosurgical Research. He is member of various international societies and expert committees. He served as principal investigator for some clinical studies concerning neurotraumatology, subarachnoid hermorrhage and treatment of intracerebral hematomas.

Skull base, pituitary, vascular as well as glioma surgery are nowadays his clinical focuses.

Professor Unterberg published more than 600 original papers and numerous books.

From 2008 to 2010 he served as President of the German Society of Neurosurgery (DGNC). From 2011 to 2013 he was President of the German Society for Neurointensive Care.

Since July 2022, he is currently until 2024 President of the International Neurotrauma Society (INTS).

Alexander Younsi

University Hospital Heidelberg

I am a Neurosurgeon interested in Neurotraumatology, TBI, and SCI, with a research lab for experimental neuroregenerative and neuroprotective treatment approaches.

Head of working group neurotrauma and neuroregeneration at Universitätsklinikum Heidelberg

Additional qualification in intensive care medicine, basic certificate in spinal surgery (DWG)

Rebeca Gavrila is a PhD student in the Cognitive and Molecular Neurosciences program at KU Leuven (Belgium). Her research focuses on the functional impact of Traumatic Brain Injury in the elderly population. She holds a BSc in Physical Therapy from the University of Zaragoza (Spain) and a MSc in Neuroscience from the Autonome University of Madrid (Spain).

Massimiliano Visocchi

CATHOLIC UNIVERSITY OF ROME , POLICLINICO GEMELLI

Anna Elmers

Designer Health Partners

Wilco Peul

University Neurosurgical Center Holland (UNCH)

Name and title(s): Wilco Peul, Prof. MD, PhD, MPH, MBa

Current position(s) and affiliations: Full time spinal neurosurgeon in The Hague and Chairman of the Spine Center.

Specific expertise: Neurotrauma

Franco Servadei

Humanitas University

Name and title(s): Franco Servadei, M.D.

Current position(s) and affiliations:

Professor of Neurosurgery, Humanitas University , Milano, Italy

Honorary Professor of Neurosurgery at Burdenko Institute, Moskow, Russia, Universita' Italiana di Buenos Aires, Argentina, University of Surabaya, Indonesia, and University of Cambridge , UK.

Chairman the Neurotrauma Committee of the WFNS (2002-2009)

President Italian Neurosurgical Society 2010-2012

President Elect , WFNS (2015) and President of the World Federation of Neurosurgical Societies since 2017.

Invited speaker in the last 10 years to 72 international meetings in all the 5 Continents of the WFNS

Visiting professor in UK, Taiwan, Russia, Argentina, India, Indonesia, USA, Brazil, Vietnam, France, Bolivia

Chairman of 5 international training course for young Neurosurgeons, teacher in other 17 Courses

Organizer of 5 International World Meetings

Specific expertise: Neurotrauma

Ramon R Diez-Arrastia

Penn Medicine University City

Dr. Diaz-Arrastia serves as Contact-PI for Penn NeuroNEXT. He currently the Presidential Professor of Neurology and Director of Clinical Traumatic Brain Injury (TBI) Research at Penn, a position that he assumed in July, 2016. Dr. Diaz-Arrastia received his MD and PhD degrees at Baylor College of Medicine in 1988, and after an internship Beth Israel Hospital and the Harvard Medical School, he trained in neurology at Columbia-Presbyterian Medical Center. He was on the faculty at the University of Texas Southwestern from 1993 to 2011, where he rose through the ranks from Assistant to Full Professor of Neurology. From 2011 to 2016 he was Professor of Neurology at the Uniformed Services University of the Health Sciences (USUHS), and Director of Clinical Research at the Center for Neuroscience and Regenerative Medicine, a federal intramural research program focused on TBI at USUHS and the National Institutes of Health.

His research for the past 25 years has focused on understanding the molecular and cellular mechanisms of neuronal injury and neuroregeneration, with the goal of developing novel diagnostic and therapeutic strategies. He has been Principal Investigator on multiple local and national clinical studies in TBI, Alzheimer's disease, epilepsy, and HIV-related neurological disorders, although for the past several years his focus has been on TBI.

He is the Scientific PI for the Brain Oxygen Optimization in Severe TBI (BOOST) Phase 3 trial, recently funded by NINDS as one of the first clinical trials conducted by SIREN (Strategies to Innovate Emergency Clinical Trials Network). He was contact PI for the BOOST Phase 2 trial, and thus have experience in designing and implementing Phase 2 trials that lead to definitive Phase 3 studies.

He is also currently co-PI of TRACK-TBI (Transforming Research and Clinical Knowledge in Traumatic Brain Injury), a multi-institutional observational study designed to develop precision medicine tools, including neuroimaging and biomarkers, to improve the design of the next generation of clinical trials in brain injury. He has also served in several national and international committees related to TBI clinical research and practice, convened by the NIH, DoD, and the IOM. He additionally has extensive experience mentoring junior investigators, and over the past 10 years have been primary mentor for four K23 awardees, who have gone on to successful academic careers.

Rebekah Mannix MD, MPH is a Senior Associate in Pediatric Emergency Medicine at Boston Children's Hospital and an Associate Professor of Pediatrics and Emergency Medicine at Harvard Medical School. She is also co-director of the Boston Children's Hospital Brain Injury Center. As a practicing clinician, Dr. Mannix has overseen numerous innovations in the care of pediatric brain injured patients. Her translational research has been widely published including recent articles in Nature, Nature Communications, JAMA, and Annals of Neurology.

Dr. Vova joined the staff at Children's Healthcare of Atlanta in 2008, and currently serves as the director of rehabilitation services. He is board certified in pediatrics, physical medicine and rehabilitation, pediatric rehabilitation medicine and brain injury medicine. Dr. Vova's main clinical focus is caring for children with disabling conditions and striving to improve their function and quality of life. He is actively involved in the cerebral palsy, spasticity, brain tumor and spina bifida multidisciplinary clinics.

Dr. Vova serves on multiple clinical and administrative committees at Children's. He has also served as the residency director for the Emory Physical Medicine and Rehabilitation Residency and the fellowship director for the Pediatric Rehabilitation Medicine Fellowship. He continues to work with Emory University and Morehouse School of Medicine where he still assists as an adjunct professor. Dr. Vova's research interests include spasticity management, anti-NMDA antibody receptor encephalitis and technology and robotics in rehabilitation. He has also presented at numerous conferences and has published textbook chapters on caring for children with special needs.

Toni Belli

University of Birmingham

Prof Belli graduated from Tor Vergata University in Rome in 1992 with a degree in Medicine and Surgery. He completed a doctoral degree (MD) on neurobiochemistry of brain ischaemia and reperfusion at Tor Vergata University and then moved to the UK in 1994.

He trained as a neurosurgeon at King's College Hospital, Atkinson Morley's Hospital, The National Hospital for Neurology and Neurosurgery, Great Ormond Street Hospital, The Royal Free Hospital and Charing Cross Hospital.

Prof Belli is on the editorial board several neurology journals and is an advisor to NICE and the Care Quality Commission.

Elham Rostami

University of Uppsala

Elham Rostami, MD, PhD, born in Iran. She studied at Karolinska Institute in Sweden. she interned in Bangalore, India and provided medical care for children with Aspergers in Sweden all while obtaining fellowships from Johns Hopkins to research stroke, training on fMRI techniques at NIH in Bethesda, and starting a PhD on Traumatic Brain Injury (TBI). After graduating in 2008, Rostami worked as an ED physician, and worked on addiction, prior to graduating from neurosurgery training in 2017, after which she was appointed an associate professor in neurosurgery, a clinical scientist at the prestigious Karolinska Institute, and a consultant neurosurgeon at the Uppsala University Hospital in the subsequent years. She also holds a Wallenberg clinical fellow position.

Rostami's extensive research profile encompasses many aspects of TBI, from biomarkers, physiology, pharmacology, treatment, and imaging amongst many others. She authored and co-authored over 60 peer-reviewed publications, and contributed to myriad book chapters. She is a recognised authority on CBF, and has been an invited speakers to several major conferences to speak on the matter, including the EANS and Euroanaesthesia. In addition to her busy clinical duties, she is active in mentoring research theses for PhD students both as a main and as a co-supervisor. She has attracted over 13 million Swedish Krona (EUR ~1.3 million) in research funding. Furthermore, Rostami serves as the Vice Chair of the Neurotrauma Section of the EANS, is a member of the Swedish Ethical Review Authority, and is a commissioner in the assessment group of the Faculty of Medicine's Foundation for Psychiatric and Neurological Research.
Content
Interactive case discussion, Lectures, Q&A session
Target audience
The Chinese Neurosurgical Society, WFNS Neurotrauma Committee and Global Neuro Lecture Series—Neurotrauma has been developed for neurosurgeons and other health care providers, including residents, dedicated to the integral management of Neurotrauma, as well as complex and interdisciplinary patient care.
Languages
Chinese, English
This Twelve-week Lecture Series will focus on multiple aspects of neurotrauma and its management. It will cover multiple neurotrauma-related topics such as traumatic brain injuries (TBI), the management of neurotrauma in the elderly and pediatric populations, ASDH, Biomarkers, Post-trauma neuroinflammation and Epilepsy, Sleep, Coagulation and TBI, and Autonomic dysfunction following TBI, among others.
Each week two lectures will be presented by international faculty and broadcast in both English and Chinese.
At the end of the Lecture Series, a live 1.5-hour webinar with the participation of some of the international faculty that presented and local faculty will address participants' questions and concerns.
Participants will be able to interact throughout the course by sending their questions and concerns through a chat.
Agenda
(See Preliminary Program)
By completing this course, participants will be better able to:
Describe and discuss latest evidence-based trends in the management of TBI
Appreciate best practices of the continuum of TBI care from prehospital, emergency, intensive, surgical, and rehabilitative phases of treatment
Understand evolving trends and innovations in contemporary surgical and medical techniques of neurotrauma management.