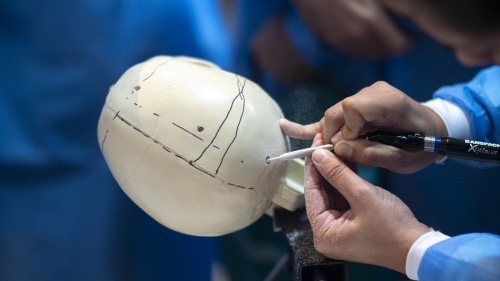 Open for registration
Global Neuro Course—Neurotrauma
Time: 8:00 - 18:00
12 October 2023
Switzerland | Chavannes-de-Bogis
Hervé Quintard

Hopitaux Universitaires de Geneve

Raphael Guzman

University Hospital Basel

Michael Fehlings

University of Toronto
Registration fee: CHF 100.00




Discounts are available, check the registration tab!
This event is accredited by the Swiss Society of Neurosurgery. and we have applied to UEMS—EACCME® in Brussels for European CME credits (ECMEC®s).
Content
Artificial bone practicals, Debates, Lectures, Q&A session, Small group discussion
Target audience
The course has been developed for:
Neurosurgeons
Spine surgeons
Critical care physicians
Neurosurgery and critical care nurses
Mid-Level practitioners
Neurosurgery residents and fellows
Translational researchers interested in learning about clinical aspects of neurotrauma
This course covers the current best strategies and considerations for managing neurotrauma patients and is based on competencies defined in Global Neuro's curriculum. It is organized by the Swiss Young Neurosurgeons Society (SYNS) and Global Neuro as a practical pre-course to the annual SYNS Sympoisum, focussing on cranial and spinal trauma. The content is delivered using multiple methods: Comprehensive lectures concentrate on the understanding of core material. Interactive case presentations further deepen this knowledge and enrich the discussion on trauma management. Practical sessions teach the application of Global Neuro principles to the management of Neurotrauma.
The Global Neuro Course—Neurotrauma, SYNS Symposium Pre-Course covers the theoretical basis and practical principles for managing traumatic brain and spine injuries and making proper decisions in daily clinical practice.
Upon completion of the program, the participants will be able to
Review basic science and clinical translational advances in traumatic brain injury, cranial trauma, and spinal cord injury
Apply evidence-based decision making to the management of patients with TBI and SCI
Select the best operative and non-operative treatment for each patient
Discuss advances in the critical and neurocritical care of TBI in adults and children
Assess and manage patients with spinal trauma and spinal cord injury based on current guidelines
Included items
Coffee breaks, Course materials, Course bag
Cancellation Policy: 50% until 30 days before the event. No refund thereafter.
The course material, coffee breaks, lunch, and course certificate are all provided, but transportation and accommodation are not included.
Are you new to Global Neuro?