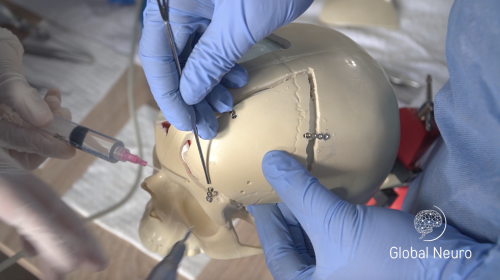 Open for registration
Global Neuro Kurs Heidelberg—Kranioplastie
10 June 2023
Germany | Heidelberg
Alexander Younsi

Heidelberg University Hospital

Andreas Unterberg

Heidelberg University Hospital
Registration fee: EUR 50.00
Content
Artificial bone practicals, Interactive case discussion, Lectures, Q&A session, Small group discussion
Target audience
Dieser Global Neuro Kurs wurde für deutschsprachige Neurochirugen/-innen, einschließlich Assistenzärzte/-innen, Fach- und Oberärzte/-innen sowie Ärzte/-innen in Leitungsfunktion entwickelt.
Languages
German, English
Diese umfassende, eintägige Fortbildungsveranstaltung zum Thema Kranioplastie in der Neurochirurgie wird von Global Neuro und der Neurochirurgischen Klinik des Universitätsklinikum Heidelberg ausgerichtet. Es werden unterschiedliche Aspekte der Kranioplastie durch Vorträge vermittelt, unter anderem Indikationsstellung, Materialwahl, Operationszeitpunkt- und techniken, Komplikationsmanagement, rechtliche und regulatorische Probleme sowie die Vergütung von Kranioplastiken. Zudem werden in Fallvorstellungen komplexe Situationen bei der Kranioplastik besprochen und in einem praktischen Teil werden technische und chirurgische Aspekte demonstriert und geübt. Der Kurs wird durch nationale und internationale Referenten unterrichtet. UEMS-EACCME® gewährt für diesen Kurs 6 europäische CME-Credits (ECMEC®).
Nach Abschluss dieses Kurses sind die Teilnehmer/-innen besser in der Lage:
Die Indikation für eine Kranioplastie zu stellen und die Gründe für die Durchführung dieses Eingriffs zu nennen.
Zu entscheiden, wann eine Kranioplastie nach einer dekompressiven Kraniektomie durchgeführt werden soll.
Einen Überblick über verfügbare Materialien für eine Kranioplastie zu geben und deren Vor- und Nachteile zu benennen.
Zu erläutern, wie man eine Kranioplastie durchführt und wie mit Komplikationen und Risiken umzugehen ist.
Die rechtlichen Implikationen der Lagerung und Verwendung von autologem Knochen für eine Kranioplastie zu kennen.
Die Vergütungssituation der Kranioplastie in Deutschland zu beschreiben und diese im eigenen Haus ggf. zu optimieren.
Included items
Coffee breaks, Lunch, Course materials
Cancellation Policy: 50% until 30 days before the event. No refund thereafter.
Are you new to Global Neuro?