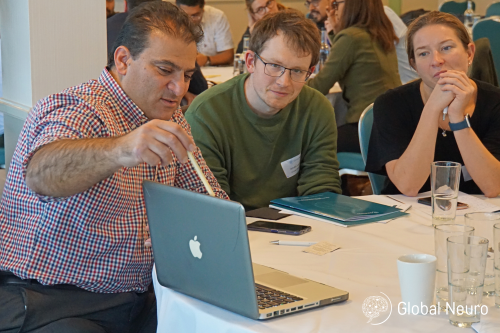 Open for registration
Global Neuro Advanced Course—Neurotrauma: Shaping the future of Neurotrauma Monitoring and Management from its Origins
10 - 11 November 2023
United Kingdom | Edinburgh
Andreas Demetriades

University of Edinburgh

Andres M. Rubiano

University El Bosque / ValleSalud Clinical Network
Registration fee: EUR 500.00




Discounts are available, check the registration tab!
Limited offer - Special discount for participants available NOW!!! (Until 8 October 2023) Course chairs: Andreas Demetriades, Royal Infirmary of Edinburgh, United Kingdom Andrés Rubiano, University of El Bosque, Columbia
Venue
Sheraton Grand Hotel & Spa
Content
Artificial bone practicals, Interactive case discussion, Lectures, Q&A session
Target audience
The Global Neuro Advanced Course has been developed for trainees, surgeons, and physicians who are interesed in the management of cranial and spinal neurotrauma and who have a strong interest in complex patient care, clinical research, and an interdisciplinary approach.
This course covers the current best strategies and considerations for managing neurotrauma patients with a special emphasis on advanced surgical treatment and neuromonitoring. The course is based on competencies defined in Global Neuro's curriculum. The content is delivered using multiple methods. Comprehensive lectures concentrate on the understanding of core material. Interactive case presentations further deepen this knowledge and enrich the discussion in trauma management. Practical sessions teach the application of Global Neuro principles to the management of common injuries. Case-based discussions link the lecture material and practical skills with the clinical problems encountered in clinical practice.
After the course, the participants will be able to
Apply current classification systems, guidelines and recommendations in neurotrauma
Name new trends and future topics in neurotrauma care
Manage complex neurotrauma, including penetrating injuries, vascular injuries, skull base fractures and spinal cord injuries with an interdisciplinary approach
Conduct and interpret advanced imaging and neuromonitoring
Plan and perform the following operative techniques: multifunctional probes, complex cranial reconstruction, and dural repair
Manage complex complications such as metabolic disturbances, CSF leaks, coagulopathy, and cranial neuropathies
Discuss and conduct state-of-the-art clinical research
Discounts
Limited offer - Special discount for participants (50%)
Included items
Coffee breaks, Lunch, Course materials
Cancellation Policy: 50% until 30 days before the event. No refund thereafter.
Are you new to Global Neuro?