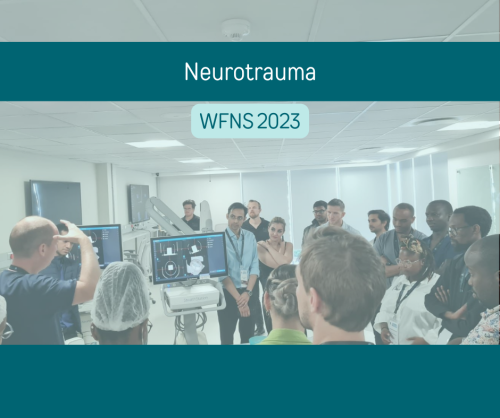 Open for registration
Global Neuro Course—Neurotrauma at the XVIII World Congress of Neurosurgery WFNS 2023
Time: Dec 3, 14:00 - 18:00; Dec 4, 08:30-13:00
03 - 04 December 2023
South Africa | Cape Town
Mario Ganau

Oxford University Hospitals

Nqobile Thango

UCT Neurosurgery
Registration fee: EUR 25.00
Course Chairs: Nqobile Thango, University of Cape Town, South Africa; Mario Ganau, Oxford University, United Kingdom
Venue
Neuroscience Institute, University of Cape Town
Content
Cadaver practicals, Interactive case discussion, Lectures, Q&A session, Small group discussion
Target audience
The Global Neuro Course-Neurotrauma at the WFNS 2023 has been developed for residents, surgeons, and physicians who manage spine and cranial neurotrauma.
This course covers the current best strategies and considerations for managing neurotrauma patients and is based on competencies defined in Global Neuro's curriculum. The content is delivered using multiple methods. Comprehensive lectures concentrate on the understanding of core material. Interactive case presentations further deepen this knowledge and enrich the discussion on trauma management. Practical sessions teach the application of Global Neuro principles to the management of common injuries. Case-based discussions link the lecture material and practical skills with the clinical problems encountered in clinical practice.
The Global Neuro Course—Neurotrauma covers the theoretical basis and practical principles that are the foundation for managing spine and cranial neurotrauma.
By completing the neurotrauma course, participants will be better able to:
Perform an appropriate assessment of neurotrauma patients with the application of relevant guidelines. 
Choose the appropriate imaging modalities and interpret the results. 
Identify and apply management strategies for patients with traumatic brain injury (TBI) and Spinal Cord Injuries (SCI), including limited resource settings. 
Manage patients with TBI and SCI based on current consensus and guidelines. 
Apply evidence-based decision-making for the management of patients with TBI and SCI. 
Perform multimodal neuromonitoring and interpret data to guide treatment interventions. 
Included items
Coffee breaks, Course bag, Course materials, Lunch
40 seats
Cancellation Policy: 50% until 30 days before the event. No refund thereafter
Are you new to Global Neuro?